I have been introduced to Latina Christiana I by Memoria Press and I am here to bring you a complete review of the program.
As a mother that uses the Classical Education in our homeschool, I have been excited at completely adopting Latin as one of our new languages to learn. But it is a new language to me.
I was hoping to learn Latin with my children, but in my mind, it is wise for the teacher to stay a step ahead of the students. With Latina Christiana I, I am able to do that.
Read on to see what is included in the complete set, how I used it and my honest opinion on how effective and useful this program really is.
Latina Christiana I
Latina Christiana's complete program includes the Teacher Manual, the Student Workbook, a set of flashcards, a Pronunciation CD and the Instructional DVDs.
The set consists of 25 lessons with a review lesson after every 5 lessons. The set is very complete, in my experience.
The Teacher Manual is full of details about the lessons, historical facts about the topic that is being studied, the lists of recitations, declensions, Latin sayings and so much more.
The Student Workbook is easy to follow, it includes the vocabulary, the grammar forms, translations, Latin case endings and so much more.
The DVD set contains 5 DVDs with 5 complete lessons on each one, plus the review lesson.
The pronunciation CD has the songs and prayers to be learned in Latin as well as the pronunciation, conjugation and other information about each lesson.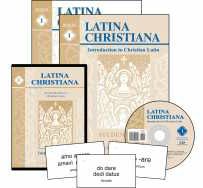 Why Learn Latin with Latina Christiana I?
I know what you are thinking: Derivatives? Declensions? Memory songs and prayers in Latin? Latin sayings? What in the world is all this? Don't be nervous.
It is all part of this awesome language. Latina Christiana I explains everything well and it is a great resource for beginners.
Latina Christiana I works at a great pace where I am feeling challenged and never bored. I appreciate the repetition in the reviews with every lesson.
I like this program because it is all-inclusive. This set is all you need to learn Latin.
How I used Latina Christiana
I used Latina Christiana I for me. It is advertised for students grade 3 and above. Like I mentioned at the beginning of the post, I wanted a program that was complete and that would be successful at teaching me what it is supposed to.
Since the program first arrived in the mail, I made a schedule to cover 3-5 lessons per week. The Lessons were easy to follow, especially with the Instructional DVDs.
The DVD set made a world of difference in terms of learning the correct pronunciation, the reviews, the progression of the lessons and the explanations for words and the derivatives.
My Honest Opinion of Latina Christiana
I am impressed with Latina Christiana I and I would LOVE to use Latina Christiana II to continue with my Latin studies.
I can definitely see how much it is benefitting me personally and how my children will benefit from me knowing the Latin that I have been learning when I teach them this language in our homeschool.
The best part is that I can revisit the lessons whenever I need to brush up on them and even use this with my children when they are old enough.
As a lifelong learner, a world languages lover and a homeschooling mom, I have seen many curricula and many programs that claim to teach languages.
I can confidently say that I recommend Latina Christiana I if you and/or your children are wishing to learn Latin.