In this post, we will be reviewing a program to learn Chinese online for kids and adults. It is the Chinese Courses (Chinese K-2) by Middlebury Interactive Languages. This is not the first time that we use or review Middlebury. You can see our reviews on the K-2 program HERE and the Grades 3rd-5th program HERE. These are our favorite Chinese learning games for kids because a lot of learning takes place while they are fully immersed in the language in a fun way.
Chinese Games for Kids
That is right. Middlebury creates programs to teach languages in the form of games. This keeps students engaged. These games are different, creative and interactive. This is the best way for Chinese learning for kids! In these lessons, there is a main character picked by the students and, as they advance in their lessons, so does their character. There is wonderful connection and continuity in the material. The game form proves to be very effective. And these Chinese lessons for kids are fun and they learn a lot.
When we first signed up, I went through the program at a glance and printed out all of the lesson story transcripts (they come in both Chinese and English) as well as the vocabulary lists for each unit (words they will be learning during each unit) and calligraphy paper (it has special marks on the squares to practice it the right way). I hole-punched them all and put them in a binder. Then we were ready to being all of the Chinese awesomeness!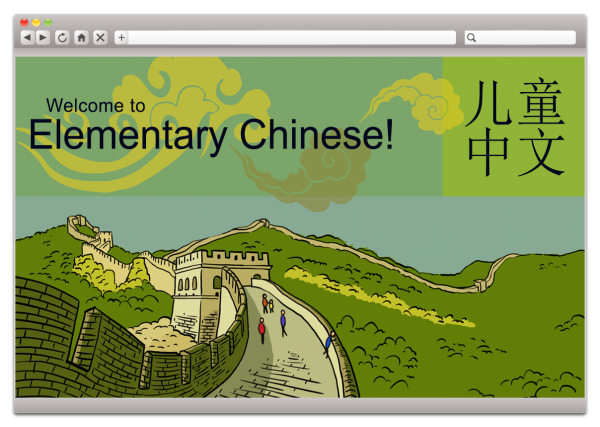 Chinese Words for Kids
When you, as a parent, are thinking about how to go about learning Chinese for kids without you knowing Chinese, well, the answer is simple… learn along with them! The lessons have varied levels and are perfect to do individually or as a family. Imagine setting time aside a few times a week and take Chinese lessons with your kids! How cool would that be?! The vocabulary you will learn will be easy to use and apply with each other over dinner or any conversation during the day.
Chinese Stories for Kids
The best way to  learn Chinese for kids and adults, alike, is through full immersion. This awesome program has stories in Chinese that will train your ear to listen for new sounds that are not in the English pronunciation and you will learn Chinese words through the context of the story. Chinese for kids has never been easier. I mean it. Middlebury has created an awesome program and we love it.
My son does it at least 3 times per week and at the end of every unit, we take one class period to work on his calligraphy. We all enjoy this program so much and I, as a former Chinese teacher, am loving how easy Middlebury makes it for me to implement what we love at home (on of which is languages). We would love to explore their other language programs, too. So if you were looking for an easy way to learn languages, this is it. 😀
Learn Chinese Online for Kids & Adults
Thank you for visiting our "Learn Chinese Online for Kids" post.
You might also enjoy reading our past reviews of Middlebury Interactive Languages!
Best Foreign Language Software for Kids