I am very happy to bring you a review of the Yearly Membership to the SchoolhouseTeachers.com website for online learning. I was given access to their one-year membership so I could browse around and write this review. This is my first review as a member of The Old Schoolhouse Review Crew.
My first impressions on SchoolhouseTeachers.com
The very first thing I did once I logged in was go to "Course Offerings" on the menu and watch the introductory video in this link to find out more about the website. It is very inspirational for those seeking an online Christian homeschool curriculum. After watching it, I felt even more curious to explore this educational website. I will give you a full report of my findings and give you an honest opinion on this computer-based homeschool program.
The website is uncluttered and yet full of relevant information. It was easy finding what I was looking for, which were lessons in the age group that my children are in. It was easy to find a list of all courses offered (both active and archived) that includes suggested grade levels. I decided to print one copy of it to read it and keep track of the courses I was looking at.
Landing Page: A Great Place to Start!
The landing page (Member Home) is very, very helpful. It contains links to some of the most important pages to visit like their checklists (by grade and subject), new classes and information, teacher page and the freebie corner (my personal favorite). This is a thorough and complete website. In one sentence, this is a website for teachers and homeschooling moms who wish to use technology to help complement their lessons or find lessons to use.
Checklists by Grade
The image below is a very short list of some of the internet-based courses that are offered in SchoolhouseTeachers.com. Each course is marked by grade (Pre-K, K, Elementary, Middle School, High School and Family/For Parents). This list of about 100 classes is organized and it makes it so easy to find what one needs.
"What's New This Week?" List
It was great finding this page because it keeps member updated so they don't miss a thing. I have the intentions of going over to look every Friday so I can include the new activities/lessons as I plan lessons for the following week.
Freebies Corner
SchoolhouseTeachers.com offers amazing freebies and you can find them all together in this section. They made it so easy to know exactly where they are. I am excited to print these out and put them to good use.
How did I use this product?
I found a really fun lesson in the Pre-K section. It was about pirates. We got some children's books about pirates at the library and made a craft suggested in the lesson. My children had a wonderful time learning about pirates. P is for Pirate. It was great!
My Opinion about this Computer-Based Homeschool Curriculum
I am impressed with how many classes they offer and they have new ones added regularly. They listed about 100 classes courses so far, ranging from Pre-K all the way up to adults (parents and teachers). I consider myself a life-long learner, so what I am excited the most is the list of lessons for adults (parents). I am looking forward to checking some of those out. It would be great if some of the courses were updated, including activities for the younger grades.
What I would like to see in SchoolhouseTeachers.com
There are several things that I would like to see on the website. I have younger children and, even though they are gifted and more advanced, they are not quite ready to take some of the elementary courses. There are some Pre-K and Kindergarten courses, but not as many as I'd prefer. Below is a list of some of the courses listed under Pre-K/Elementary, but in my opinion, most are Elementary level.
I am ok with not sitting my children in front of a computer for extended periods of time (especially at their young ages of 3 and 5), but it would be nice to have lessons for moms with children in the Pre-K and Kindergarten ages. I also noticed some broken links (links that don't work) in some of the lessons. I would also like to see more detail in the Science experiments lessons. The experiments are great, but more information would be appreciated.

Details and Pricing
Find all the information HERE.
Their monthly fee is $12.95
Their yearly membership is $139 (10% less than the monthly fees)
Request a 30-day trial of SchoohouseTeachers.com for FREE (you have to register for a free Welcome Basket)
Here is a sale going on until Christmas Day (December 25, 2014 at 11:59pm ET).
Receive 40% off the monthly membership ($7.77/month) or 50% off the Yearly Membership ($64.26/year). Homeschool families who join at this rate will keep it forever as long as they maintain a continuous membership.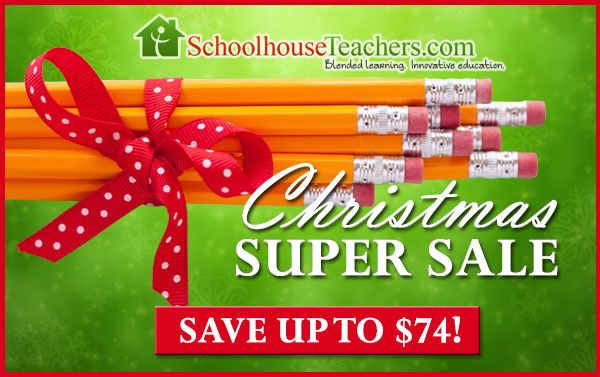 I hope you have found this online homeschool curriculum review useful and that it will help you in making your decision regarding this website. Feel free to post your questions and thoughts in the comments below.
To check out other reviews from the Crew, click on the graphic below.