We are excited to be using Apologia for our Botany curriculum this homeschool year.
In this post, we will share with you how we are incorporating the awesome Apologia Curriculum Botany Lapbook Set from A Journey Through Learning Lapbooks.
Take a look at how I am planning on using these Botany projects for kids this year to keep learning fun!
Botany Projects for Kids
This fantastic Learning Lapbook set is very complete.
It covers every lesson in the Apologia Exploring Creation: Botany textbook.
There are mini-booklets that go perfectly in folders for easy storage and easy access.
This brings learning to life because of the different hands-on projects that kids do for each lesson.
There is material to put together a total of 8 file folders, made into beautiful, interactive and amazing lapbooks.
You can buy them in printed form or in digital form.
I love how there are black and white and color (digital) files, so I can decide if I want to print in color for the easy route or if we are going to go the black and white route to save ink.
My daughter is an artist, so we are definitely going to let her color her lap book material.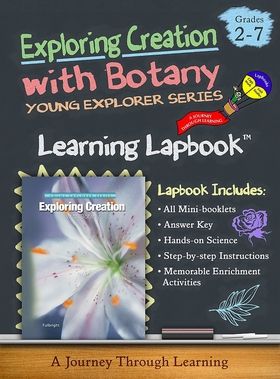 Don't worry, momma. Once you see how wonderfully helpful these are and how easy they are to put together, you will be hooked! Kids will really love them, too.
We use lapbooks for many subjects and they never disappoint.
We are starting our Botany lessons this week because we are following our co-op's schedule. I am excited to introduce these lapbooks to the kids along with the lessons.
Botany Kids' Lessons
I started out by making the first two lapbooks. Each covers 3 lessons in the textbook. It took me 20-30 minutes each to print and put together.
For review's sake, I printed some pages in color so you can see them, as well as some black and white ones. Both are great.
Also, for review's sake, I put the entire lap book together, but I think that when it's time to do lesson 7 and the rest, we might cut and paste the relevant booklets for each lesson at the time of the lesson.
We'll see what works best.
So this is how I plan on using these lapbooks with the Botany lessons this year:
Co-op is on Thursdays, so I want to have read the chapter on Tuesday and then work on the lap book on Wednesday.
By the time co-op rolls around, they will get a great and fun review with their friends where they will do more projects like plant seeds, go observe plants outside and so much more.
It's totally doable! I think that each lesson will take us about 30 unites total.
The lessons are a lot long than that, but since my kids are young still, we won't be going into every detail in the textbook.
I will use the booklets in the lapbooks as a guide because they highlight the main topics to know about each lesson.
Each lap book page comes with a description on where the booklet will be located on the file folder and what pages to read in the textbook that correspond with it.
I wrote down the page numbers on each booklet to be sure I don't forget. You can see how I did it on the 2 pictures above.
All in all, I highly recommend this product.
They have many different kinds of products and even more lapbooks for any and every subject and topic you can imagine.
Check them out!
Latest Posts