Are you looking for a way to make Algebra easy for kids? In this post, I will be telling you about our review of the Math program called Algebra for Breakfast and it is easy Algebra for kids. We will also tell you what we think of Algebra for Breakfast's 3rd/4th grade level and how we like it so far. So come on and read up on an easy way to teach Algebra to kids.
Easy Algebra for Kids
Alright! When I first looked into Algebra for Breakfast, I wondered if my oldest (7 years old, gifted) was ready for Algebra. He know his multiplication tables well, he knows how to skip count well and he also knows the Distributive, Associative, Commutative Laws and so on… I decided to give it a try and we got the 3rd-4th grade Algebra for Breakfast program to try out and review.
Wow! Algebra for Breakfast floored me completely. It wasn't what I thought (in a good way). I thought it would be monotonous, repetitive and, well, boring. But I am so glad we gave it a chance because it is anything but that! So let me tell you all about it and what makes it so great.
Algebra Math Games
First, we made a schedule for it. We usually do it first thing in the morning, right after breakfast. We schedule it for 3 times a week, but sometimes we get to it 4 times a week or we are so engrossed in the lessons that we do a couple of lessons in a row. So we log into the website and print that day's worksheet. Then we watch the video lesson. Lessons last from 2-8 minutes or so. They're not boring. They are actually interactive and hands-on.
Some lessons use games that use a printable board game, homemade number cards or the use of dice with 6 faces or 12 faces, as well as a song CD (included) with songs that help with skip counting numbers. They are all a lot of fun and they are all wonderfully linked to Algebra in one way or another. It is such a creative way to make Algebra fun! My son, who is currently in the 3rd grade in Math is getting it phenomenally.
Algebra Math Worksheets
Take a look at the picture below. There, you can see how each lesson has a printable worksheet with Algebra for Breakfast. Just one per lesson. I use one sheet to print 2 lessons to save on paper. I love how the work is thorough, but not overwhelming. We seriously get lessons done in 30 minutes or less. The worksheets are easy to do, easy to follow and learning is tangible. I am remembering a lot of of Algebra days as I go through this with him!
We have gone through about 20 lessons and have really enjoyed them all. My son is interested, doesn't whine or complain about the lessons and he actually tells me that he can do the work independently and accurately. All in all, as a homeschool mom, I am very satisfied with the program Algebra for Breakfast for my son. I am so glad we got it and I think that everyone that thinks their children are ready for Algebra should give it a try.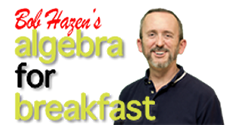 Follow Algebra for Breakfast on social media!  Facebook