Have you been trying to find good-quality books for your teen? Does your teen like realistic fiction? Are you wanting your teen to love reading without being exposed to junk? Then read on to find about a couple of books that will surpass your expectations. 
New Novel From Christian Author Jason McIntire – "Flight School: One Summer, Many Choices"
If you've read The Sparrow Found A House by Jason McIntire (Elisha Press, 2013), you'll already know his style: Real-life situations addressed with equal parts humor and biblical wisdom. It's a combination reviewers find powerful. They've used the words intriguing, believable, captivating, and unique – among many others – to describe his writing.
The Sparrow Found A House (which is available as a free Kindle download from Elisha Press) was also endorsed by Exodus Mandate, the prominent homeschooling action group. It tells the story of the Rivera-Sparrows, a newly-blended and newly-homeschooling family facing opposition from without and within. http://elishapress.com/flight-school
"Flight School" Book Synopsis
On the verge of adult life, Chris Rivera is eager to get started on his career as a director of Christian movies. But he'll have to do it without his best friend Ben, who has traded childhood toys for law books… and a very pretty study partner.
Meanwhile, Jessie is getting a lot of attention from conservative neighbor John and trendy friend Galen – each of whom, for drastically different reasons, seems a little too good to be true. In the face of hard questions and big temptations, how do you know which choice is right? And where do you get the courage to make it?
I haven't personally met the author of these eBooks, but we have had several exchanges regarding this review. He offered the brilliant idea of setting up this blog post as an interview. So I read about half of his eBook "Flight School" before writing these questions for him to answer.
I personally found them very helpful and I was able to understand where he was coming from when he wrote this fascinating story. So, without further ado, here is my interview with Mr. Jason McIntire.
_
1. What inspired you to write Christian realistic fiction books for teens?
I have always liked writing, and I could probably be happy doing it in a variety of genres. When we started Elisha Press, I first thought I would cook up some youth adventure books for boys.
But when I actually started writing, I gravitated to something I myself could relate to, with characters and events based on my own acquaintances and experiences. ("Write what you know," anyone? Yeah, your mama and your English teacher had it right all along.)
_
Great question!
 My biblical worldview is not just something I believe; it'
s
 who I am. Everything 
I 
produce flows from it 
and is governed by it. Without the truth of the Bible, I 
would
 have nothing to write about – or for that matter, to live for. 
Praise God for his Word, and for the Holy Spirit to interpret and apply it.
_
3. Why do you say that these books (The Sparrow Found a House and Flight School) are suitable for homeschooling teens?
When I say that, I hope people don't get the idea that the books are only suitable for teens, or for homeschoolers. We have readers of all ages, and not all of them are homeschooled. The homeschooling set does tend to gravitate toward our books, and I don't think that's just because the characters in "The Sparrow Found a House" and "Flight School" are homeschooled.
The values in these books are consistent with those that most biblical Christians would like to pass along to their children – and passing along spiritual values is the main reason people homeschool in the first place.
_
4. What are the main biblical themes/topics highlighted in Flight School?
Law and grace (Gal. 

6:15

). Permissibility vs. expediency (1 Cor. 

6:12

). Setting right priorities (Eph. 

5:16

). Our witness to the world (Col. 4:5). Those are some of the major "themes," though of course Scripture can – and should, I think – be applied to any question or situation of any size.
_
5.
Are the Mullerites fictional characters or is there such a thing in the real world?
There is not, to my knowledge, a real-world religious group by that name. The Mullerites are based on any of the well-known Anabaptist groups in America. I don't want to mention one such church over another, for the same reason that I did not use a real name in the book.
I made up a lot of their practices and rules for purposes of the story, and it wouldn't be fair to attribute a fictional culture to a real group. 
_
6. Do you have plans to write more books?
I am vacillating hourly on the answer to that question. "Flight School" was, for reasons too complex to detail here, very difficult and time-consuming to write and edit. On the one hand, it's hard for me to see risking a repetition of that extremely demanding year-and-a-half – but on the other hand, I'm already getting ideas for a third book in the series.
After this launch, we have another book coming down the pike from my older brother Zach. (Now would be a great time to subscribe so you'll get that announcement before anyone else.) After that launch… I don't know. I'm seeking the Lord for what comes next, and would appreciate prayer in that regard.
_
7. What is the main message that you would like to send to today's youth through your book?
Do you remember the Valley of the Shadow of Death in Pilgrims' Progress? The path through the valley was narrow, with a deep ditch on one side and a miry slough on the other. I see our path through the world – especially today's world – in much the same way.
On the left is the ditch, deep and deadly with temptations of the flesh.
But to the right is the miry slough, filled with self-righteousness and suffocating rules that quench the Spirit. Veer away from license and you land in legalism; struggle out of legalism, and you soon fall into license.
How, then, do we stay out of both the ditch and the slough? We stay in the Word, keep our eyes on Christ, and walk in the Spirit (Psa. 119:9; Heb. 12:2; Gal. 

5:16

). If "Flight School" has one purpose, it's to illustrate what that walk could look like in the real world.
About The Author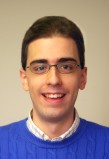 A 2005 homeschool graduate and partner in family business ventures, Jason     McIntire writes as a hobby. His Christian stories are built around solidly biblical ideas, but packaged in his own light-hearted, often humorous style.
What did I think of "Flight School?"
I read every page in this eBook. I used my Kindle app on my iPhone so I could read it anytime (except while driving, of course). I can honestly tell you that the author of this ebook is right: it isn't only for teens. I (35-year old) was intrigued; I was curious; I was having difficulty putting it down at times. 
The typical "I'll read just one more page and then I'll stop" took place more than a handful of times. I just 'had to' read one more page (or twenty). In my honest opinion, I recommend "Flight School" 100% and I can't wait to read its prequel.
~
Win a Copy of "Flight School," a 12-to-adult Christian Novel by Jason McIntire
Do you like Christian novels – especially ones with substance? Do you like free things? Enter to win a copy of the latest release from Jason McIntire: Flight School: One Summer, Many Choices.
It's a sequel to The Sparrow Found A House, which starts the story of the newly-blended and newly-homeschooling Rivera-Sparrows. The kids are back in the new release, which follows them to the start of their adult lives.
Flight School is full of interesting characters, realistic situations, and biblical truth. Don't miss it! You can order the book on Amazon right now – $2.99 for the Kindle version, or $9.99 for the 256-page print edition. Preorder a physical copy HERE.
*******************CLOSED*********************
The giveaway is open for one week (from September 1st through September 8th). On September 9th, 10 (ten) winners will be chosen to receive this eBook!
Winners will be contacted via email (so make sure and give a valid email address) and they have 48 hours to respond. After 48 hours, a new winner will be picked in their stead.
Thank you for participating and thank you to Jason McIntire for his generosity in this giveaway.