Is is really cool to find products to review like this Educator's Spanish Collection by Whistlefritz! As a native Spanish speaker, I will give you a thorough account on what this product is like, how it works and how we like it at home. Come and take a closer look at this particular curriculum to see if these basic Spanish lessons for kids are right for you family!
Basic Spanish Lessons for Young Kids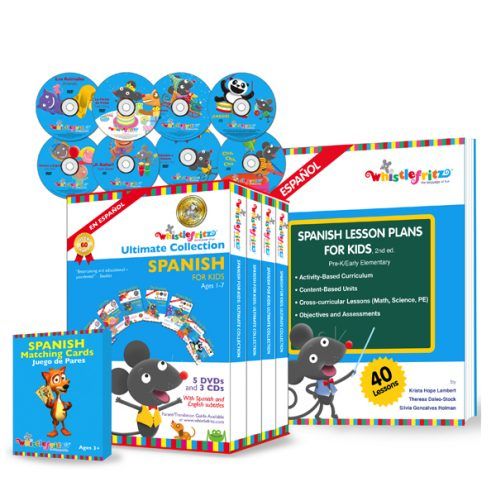 Take a look at this complete Spanish curriculum set which includes a Teacher's lesson plan book, full of material and great ideas as well as pages to be copied and used in class. It also includes a set of 5 videos that focus on Spanish immersion, repetition and exposing children to lots and lots of vocabulary.
There are also 3 music CDs that play many wonderful Spanish songs to get children into the correct mindset to learn Spanish. And finally, there is also a deck of flashcards with vocabulary words, verbs, etc, that are perfect to play a matching game.
The lessons take a little bit to follow, but once you understand how they are set, it is easier. I thought that each lesson had a short video included, but actually, the lessons indicate when a video or a CD should be played. It only takes a few minutes to read through to see what materials we need and to find out what copies we need to make.
The color versions of the pages can be found online, but we enjoyed just copying material black and white to color ourselves. And it only takes a few minutes to gather the few materials and make the copies. I liked how easy and low-maintenance this curriculum is. It doesn't take but a few minutes to plan each lesson. As a busy mom, I sure appreciate that!
Learn Spanish Lessons the Easy Way
Guys, like I said, I am a native Spanish speaker (I was born and raised in Mexico) and I completely agree with this program's language immersion approach. That is definitely the best way to learn a language. Children need to be immersed in the language to learn it best. In the videos and the songs, there is not English spoken at all!
Children watch, observe, pay attention and deduct what the speakers are saying! My children do know some Spanish, but I haven't been doing the best job at teaching them more. These videos are the best! My children cannot get enough of them and they will literally watch these 30-minute (or so) videos daily and always be excited to watch them.
Every time they watch them, they catch something new. They learn a new word and they create new neurological synapses in their brains. To support all of what is being learned in these 5 videos, there are activities in the lesson plan book. It is full of games and fun ideas to reinforce the vocabulary.
We really do enjoy this curriculum and I think that this is an easy way for moms to teach her kids a language in a doable and easy way. I do recommend this program.
Note to parents: In the video about the seasons, there are vocabulary words like "ghost," "witch's hat," "Halloween," etc, when learning about Fall. I know that some homeschooling families don't celebrate Halloween or teach their children words like the ones I mentioned, so I just wanted you to know. You can just skip the Fall section if you don't want to teach that.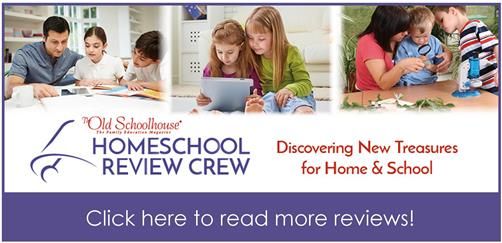 Thank you for visiting our Basic Spanish Lessons for Young Kids post!
You might also like: