I am really excited to share with you how we found easy Latin lessons for kids through this review! We use the Prima Latina Complete Set by Memoria Press.
In this post, I will show you how it works and how we use it in our homeschool. I hope you find that is actually is easy and fun to teach Latin to children.
Easy Latin Lessons for Kids
Below, you can see the complete set. It includes the through and comprehensive teacher manual, the spiral-bound student workbook, the lesson DVDs for every chapter in the book, the songs and pronunciation CD and a deck of vocabulary flashcards.
Don't be fooled by the picture! The stack of flashcards is big! It is probably 4 or 5 inches thick and it includes new vocabulary, Latin quotes, verbs and other fun stuff that is covered in all the lessons.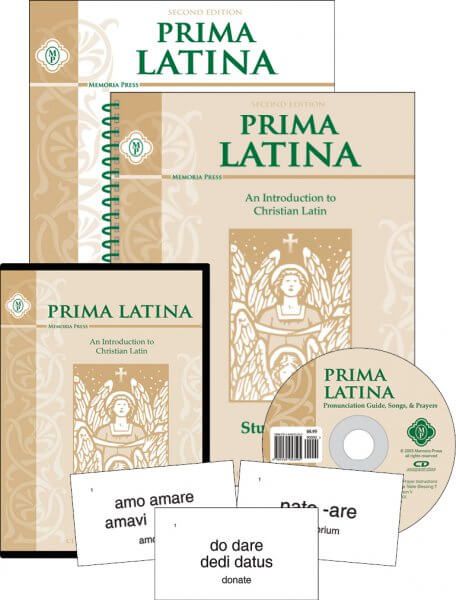 The teacher manual helps parents teaching so much easier! I like how I can go look for the answers if I get stuck grading an exercise.
Since I am learning Latin along with my children, it is fun to go in the teacher book to check the material and I find that I got it correct! 🙂 Yay!
The student book is easy to follow. My son has no issues following the lesson when he does it on his own.
I love how this curriculum fosters independence because, like I said, it is easy to follow and because the lessons are on DVD. The DVD lessons are fun, engaging, not too long and in a great progression.
The lessons get progressively harder, but don't make big jumps where the work goes from challenging to way too challenging, thus losing the student's interest.
Latin for Kids
The instructor for Prima Latina is the same from the other Latin curriculum (by the same company) I used myself a couple of years ago and she's great.
She is very comfortable with the language and that confidence helps students be confident in their learning of Latin. I know because I experienced it myself and I also see it in my son when he does his lessons.
Also, I really like how the lessons build on each other and they always include a review section from previous chapters.
The material covered is practical and is presented in a way that students can understand it easily. We use this curriculum three times a week and that keeps the information fresh and not overwhelming at all.
All in all, we really enjoy Prima Latina. It works really well for us and we plan on using it as our Latin curriculum. It is thorough and very complete.
Most importantly, it is easy for parents to use it to teach Latin and it is simple for students to follow. My son and I really enjoy this bonding time together.
Memoria Press is such a great company! It always creates wonderful and excellent-quality materials for homeschoolers. I highly recommend any of their books. Give it a try!