My son is a great reader, but when it comes to writing, he needed a program that was easy to follow and effective. We are so happy to review Here to Help Learning. This program has three "flights," which divides the learning material into 3 groups.
They have the Flight 1 Paragraph Writing, Flight 2 Paragraph Writing, Flight 3 Paragraph Writing, Flight 1 Essay Writing, Flight 2 Essay Writing and Flight 3 Essay Writing. We focused in on Flight 1 of Paragraph Writing. Come find out how we liked it and why.
First off, I want to tell you that you can get this program in book form or in digital form. Part of both is the online portion of it. We receive the digital form of the program, which makes it easy to print only what we need to print and to print multiple copies if we are using the program in a small group, classroom or co-op setting.
Below, you can see a picture of what you would receive if you order the Here to Help Learning physical books and DVDs.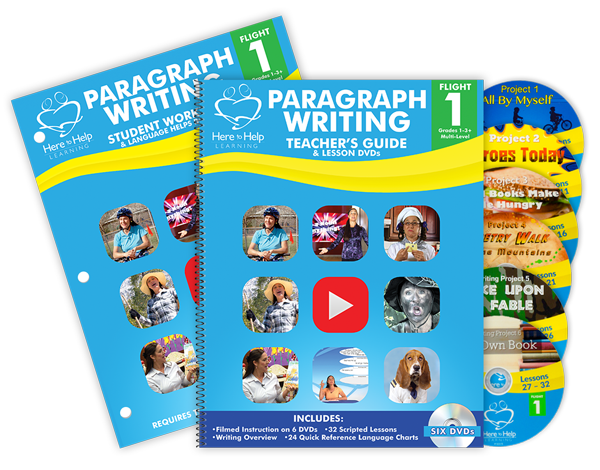 At first, it took some reading a preparation on my part to figure out what I needed to print and how the program worked in general. Once I figured it out, it was a walk in the park. From the beginning, as I was researching the product prior to accepting the review, I was impressed by how well it was put together. I enjoyed looking at the preview videos and the scope and sequence.
We decided to start with Flight 1 to learn to write paragraphs because I felt that it was necessary to start there. My son is six years old and definitely ready for this material. He truly enjoys every lesson and he asks to do it every morning. What I do is open the program, look over the lesson (it takes 30 seconds to glance over it), I print the pages for that lessons and he is ready to get started.
Like I said, part of the lesson is online (in video form) in which children are taught the lesson, are given examples and get opportunities to play games, see assignments in action and even get lots of laughs and humor. My son especially likes that the program's theme is air flight.
I especially like that my 4-year old is in the vicinity when my son is doing the lesson and she is picking up things here and there. But what I like the most is to see how much my son is learning and how effective Here to Help Learning is. He is becoming such a comfortable writer! I am so proud of his paragraph on why his Dad is his hero. So touching!

The program is very complete and thorough. We enjoy the games, the writing warm-ups, the mnemonics to learn the writing process, the scripture memorization and the humor throughout the lessons. We also love to use the Discovery tickets. My son gets one every time he complete a lesson successfully.
So do I recommend Here to Help Learning? Hands down, yes. I give a resounding yes. I have seen how much it has helped (no pun intended) and how engaging it is. We will continue to enjoy this program as long as we can.