We are so excited to be sharing with you our review of the wonderful Timeline Trio by Home School in the Woods!
It is full of important information to offer endless Timeline Lessons for kids!
This hands-on History program has been so much fun using as it goes PERFECTLY with our History studies.
Alright, so I need to confess to you that History (along with Geography) is my favorite subject to learn.
There were so many interesting events and characters!
It is simply fascinating to me how events unfolded and how the world (governments, countries and cultures) is the way it is today.
So it doesn't take much for you to notice that we do a lot of History, Social Studies and Geography studies.
My children are learning to fall in love with it, too.
This Timeline Trio fell on our laps at just the perfect time!
It includes: the Collection of Figures on CD, the beautiful "Record of Time" timeline notebook and the SUPER helpful Suggested Placement Guide.
Even though this beautiful timeline notebook starts at the beginning of civilization, we decided to begin our studies in the 1400s.
We are done with Ancient History going into the New World and the birth of the United States in our History studies in the Fall.
We are excited about American History with a historical figure list and important events!
I just love how this timeline is set up!
History Timeline Printable
The CD comes with two printable options for the historical timeline pictures.
You can choose one, the other or both! Use it in the binder or make a kids timeline poster!
They are the same, except that one has smaller pictures that fit the Timeline Notebook perfectly.
The second set has larger pictures, in case you wanted to create your own notebook or maybe even a wall timeline!
Oh and each also has the option of printing with a little blurb at the bottom about the person or event.
The timeline figures can also be printed without any text.
You know me; I obviously printed the ones with text under the pictures.
You can see the six difference between the two in the picture below (bottom left).
I printed both, actually. Hehe.
The larger images were perfect for my 5-year old.
She would color them while I used the smaller ones in the Timeline Notebook with my oldest.
It was great to have both working on the same timeline events/people, but each at their level.
Printable History Timeline for Kids
Let me tell you how we used our "Record of Time" timeline notebook:
I printed the small images in black and white on regular paper (single-sided since we will be cutting them up).
My son took the first page and cut out the events on it.
We found the page for those particular events in our Suggested Placement Guide. It was super helpful to know where to place the pictures on our timeline.
He opened the timeline notebook to the correct page (found in the Suggested Placement Guide).
Following the guide, we placed the pictures in the correct spots and then glued them on.
Next, I asked my son to take a look at all the images and point out the events/people he recognizes (that he has heard about, read about or learned about in the past). We read the text below those pictures to review our past knowledge.
I asked my son to point out 3 pictures of events or people that caught his eye or was interested in knowing more about. Then we read the text underneath.
Printable World History Timeline
This is what the complete trio set looks like: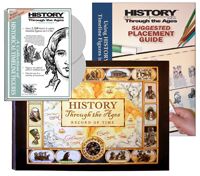 *********************
We are really enjoying this product and will be doing it weekly until we complete our studies.
Don't forget that Home School in the Woods is a hands-on History company and has many other wonderful products!
We have reviewed some of their lapbooks in the past. See it HERE!
Also check out their Time Traveler American series, Activity-Paks and Lap-Paks!

And now, a special message from Home School in the Woods: "We are proud to announce that we will soon be offering A-La-Carte projects!
Have you ever just wanted a select few projects for topical studies, but not wanted to purchase an entire unit to get them?
This is the answer! Coming this Summer!"
Thank you for reading our Timeline Lessons for Kids post!