I will be upfront with you from the very beginning: we LOVE Apologia. We have reviewed several of their products before and today, I am happy to show you more about their awesome Science curriculum called Exploring Creation with Astronomy, 2nd Edition.  Apologia Educational Ministries did it again! They did a fantastic job and, in having owned edition 1 and now the 2nd edition, I can tell you that they did awesome.
Student Text: It comes in a hardcover format (physical copy). The Exploring Creation with Astronomy, 2nd Edition curriculum is 100% God-entered, which is perfect for young Earth, Creationist families. This textbook is very thorough. It includes 14 lessons that go into relevant topics using the latest data out there, so students are always up-to-date on scientific research. And it covers the Solar System and beyond, terminology used in Astronomy and how God created it all and how all functions just perfectly due to an intelligent design. I love the way this book uses the Charlotte Mason approach to learning!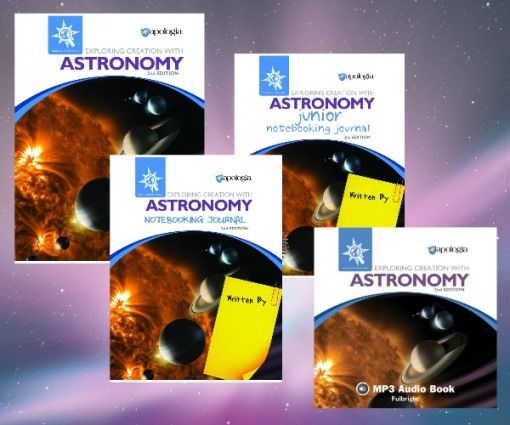 Notebooking Journal: It is for grades 3rd or 4th up to about 6th. It goes perfectly with the textbook, a great way to record findings, make notes and special things that were learned during the lessons. I was so excited to see the regular notebooking journal, as I had only gotten a chance to use the junior journals. Both are great, but I can definitely tell that one is more in depth because it is for older grades/ages. Since we cycle our learning, we will use the junior journal with my son now and use the regular notebooking journal on the next time we cycle through Astronomy.
Jr. Notebooking Journal: It is for grades K to about 2nd or 3rd. It includes beautiful coloring pages to correlate with the lessons being covered and wider lines for beginning writers as well as less writing assignments and easier activities because the users are younger. It is basically an easier version of the regular notebooking journal. For example, if you have a 1st grader using the junior journal and a 5th grader using the regular journal, they will still be able to do the lessons together.
Audio CD: It contains the textbook in audio form for those who like listening to lessons or for reviewing purposes. It would also be great for visually-impaired students. It's also great for others with learning disabilities. This is NOT a CD, so it won't play in the car, for example. It is in MP3 format, which means that you need to play it through a computer or an MP3-compatible device. This was a con for me, personally, because we live in the middle of nowhere, so we always have long drives into town. We play many audiobooks and lesson CDs. This would've been perfect for us to play in the car, if it were in a regular CD format.
In short, I definitely recommend Exploring Creation with Astronomy, 2nd Edition. Actually, I'd recommend all of Apologia's curricula and products. They are fantastic and of the best quality.

Follow Apologia Educational Ministries on Social Media!
Facebook: https://facebook.com/apologiaworld
Twitter: https://www.twitter.com/apologiaworld @apologiaworld
Pinterest  https://www.pinterest.com/apologia/
Instagram:  https://www.instagram.com/apologiaworld/
Thank you for reading our Solar System and Astronomy for Kids post!