I am sure you have read how much we love History. We have started from the very beginning with our What does an Archaeologist Do? post where we study what History is and how we learn so much by the research that archaeologists do. Now, we are going to show you our post on Cave Paintings for Children.
History: Cave Paintings for Children
It was so much fun studying about cave paintings together and then we made our very own cave paintings! We first read some awesome and super funny books about cavemen and cave paintings. The illustrated encyclopedia and the internet-linked encyclopedia were the best to introduce the topic and to show some great pictures of cave paintings.
We also read It's Disgusting and We Ate It, Ancient Agriculture and The First Dog. One Small Blue Bead was the last one we read. It was so cute and I feel like it really brought it home, when it comes to having a sense of time and how history progresses.
The Usborne Illustrated Encyclopedia: The Natural World (Usborne Illustrated Encyclopedias)

The Usborne Internet-Linked Encyclopedia of World History

It's Disgusting and We Ate It! True Food Facts from Around the World and Throughout History

Ancient Agriculture: From Foraging to Farming (Ancient Technology)

One Small Blue Bead

The First Dog

&
Then, after reading all that, we dove into the actual cave paintings for children. I looked through some images ahead of time, to be sure they were safe for children. They were fascinated that cavemen drew on cave walls and they were tickled to think that this is how they decorated their caves. The drawings have also given us amazing insights on how cavemen lived, hunted and what was important to them.

Make Cave Paintings
And as if all this wasn't fun enough, we now got ready some materials to make our own cave paintings! You can make some, too! It is so easy! All you need is: a large brown bag or butcher paper, scissors, sidewalk chalk in assorted colors and charcoal or burned pieces of wood.
I cut the large paper bag to have 2 large canvases to work with. Then I gave one to each of my children. I liked using the paper bag because it was handy to have the handles on for hanging our works of art at the end.
Kraft Paper Jumbo Roll – 30

50 Paper Retail Grocery Bags Kraft with Handles 12x7x17

Crayola 12 Count Sidewalk Chalk

Crayola Washable Multicolored Sidewalk Chalk

Westcott Soft Handle Kids Scissors, Colors May Vary, 5-Inch Blunt (14596)

&
I crinkled the brown paper a bit before they got started, to give them a little bit of texture, relief and more of a feeling like they are actually drawing on a cave wall. Using the charcoal and the sidewalk chalk, they drew different images and traced their hands.
They said that drawing a buffalo was kind of hard, so we did a quick and impromptu step-by-step "buffalo-drawing" lesson. They were excited to have that skill under their belts! Draw an oval for the body, a vertical rectangle for the head, four legs, a tail and 2 horns. Don't forget the eyes and the mouth!
Keep in mind that this is what their cave paintings look like! This fence is outside our living room window, so we hung them up and we enjoyed looking at them from our living room. Now, it's your turn! Grab these printable cave paintings for inspiration!
Also, thank you for reading our History: Cave Paintings for Children post!
If you are a History lover (or a free homeschool printables lover), you might also like: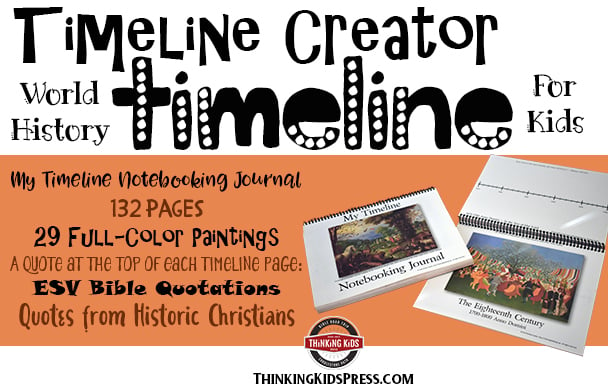 History about Past and Present the Montessori Way {Free Printables}
A Brief History of Boats and Ships {Free Printables}
Art & Architecture History of Ancient China {Free Printables}
Montessori-Inspired: The History of Time Measurement {Free Printables}
Teach Ancient History (& so much more) with Games, Timeline & a Thesaurus
History of the Wreath & Hands-On Activities {Free Printables}