Here is the newest release by the most awesome audio theater company, Heirloom Audio Productions! It is called Beric The Briton and my children and I couldn't be happier to own it! I truly believe that reading books is extremely important, but Historical Fiction audiobooks like this one will definitely and literally bring books to life for your family.
Beric the Briton
Beric The Briton is based on the tale of the Roman invasion by ancient Britain (Britannia). The story captures your attention from the very beginning and, even though I had planned for us to listen to one CD per day, we just couldn't do it! We were so interested in the story that we simply had to listen to CD 2 as well. My children and I love listening to our audiobooks in the car or during lunch.
This story, sparked several interesting conversations, including the spread of the Gospel, Ancient Rome and even the reign of Nero. I love it when stories make us think and expand our knowledge! G.A. Henty is simply brilliant when he writes these stories and Heirloom Audio Productions does all of them justice with the highest quality recordings.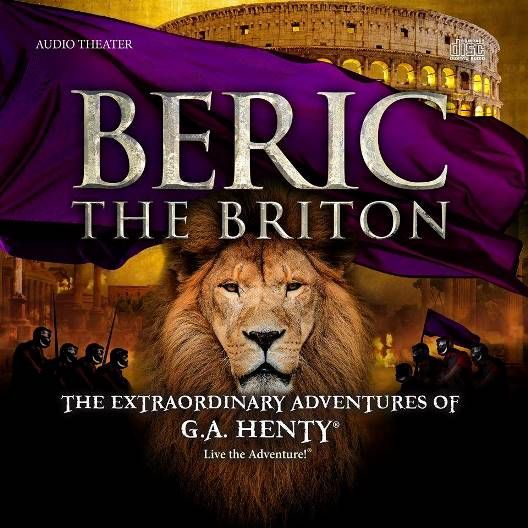 Imagine joining a captured Beric The Briton to be trained to be a gladiator! Imagine being brave ad courageous in times of peril. Imagine fighting against Emperor Nero himself! Heirloom Audio Productions did an amazing job with the sound effects and the dramatization of every minute of this fantastic tale.
Historical Fiction Audiobook
Beric The Briton is very complete. Actually, Heirloom Audio Productions offers an amazing array of additional digital items with their premium buying option (the Family Four-Pack)! There is a printable study guide where we can expand our study of the story even more! It has a chapter by chapter set of quotes, questions and recapitulations of the content.
There are also a couple of printable posters, including the one with the famous quote by Julius as well as a digital copy of the book, Beric the Briton. I am definitely printing the eBook and the study guide to study this story in depth. And don't forget that you can also download the digital version of the audiobook as well as a copy of the beautiful soundtrack!

Get all of Heirloom Audio Productions' products! They have our favorite, 
Under Drake's Flag
and the captivating 
The Dragon and The Raven
. They also have the fantastic With
Lee in Virginia
 and I even made a video where I mention the awesome In Freedom's Cause. Be sure to check them all out! I simply cannot recommend these Historical Fiction audiobooks enough! Your best option is to save 67% by getting
the Family Four-Pack
!
They truly are the best and I am sure that your entire family will enjoy them and listen to them over and over again, like we do!
 With Lee in Virginia: The Extraordinary Adventures of G.A. Henty

 Under Drake's Flag: The Extraordinary Adventures of G.A. Henty

 In Freedom's Cause the Extraordinary Adventures of G.A. Henty

 The Dragon and the Raven – The Extraordinary Adventures of G.A Henty

 Beric the Briton – The Extraordinary Adventures of G.A. Henty

&